Having a husband whose favourite season is winter, I've learned to embrace the inevitable and find my own love for the snow. I live in Canada after all! Snowmobiling, snowshoeing and crisp winter walks with my girl are a few of the things I love doing outside in the winter. He's taught me well in that dressing properly is the key to staying warm and dry while participating in winter activities. For example layering ability, fabric quality, and choosing activity-appropriate clothing are three of many important aspects to consider.
When it comes to activewear I look nowhere else than Lolë – a Montreal born women's activewear and lifestyle brand whose name stands for "Live Out Loud Everyday". Ok I might be the rep for Lolë in Atlantic Canada, but believe me I can't stand behind a brand unless I truly believe in it. I've been testing out Lolë products for over 3 years now and I have yet to feel the need to go anywhere else for activewear. You should see my closet! I can proudly say Lolë's activewear checks off everything on my list, all while keeping the feminine and fashionable look I so love. As a new feature on my blog I will be highlighting my favourite Lolë items of the season as well as tips on how, when and why to wear them.
Let's kick things off this month and talk about the first important item I listed above:
Layering
As I've already mentioned proper layering is crucial for staying warm and dry in the cold air and wet snow. For best results you'll want to dress in 3 layers: base layer, mid layer and outer layer. The fabric and technical features of each of these layers are very important and serve a special purpose.
Base Layer
The base layer is that closest to your skin. A good base layer needs to be moisture wicking, pulling sweat away from your skin. Choosing something that isn't (like cotton) will retain perspiration making you feel wet and chilled. Trust me it's very hard to get warm and dry after this. Merino wool ranks the highest on best base layer fabrics, however there are several synthetic fabrics (polyester, nylon, rayon, lycra, etc) that also work well. The pros of Merino wool is that it offers more warmth than synthetics, but still works well for milder conditions. It is also naturally antibacterial, eliminating build-up of odour causing bacteria. Merino is an expensive option however and not cruelty-free. Polyester and polyester blend fabrics are less expensive, vegan-friendly, and faster drying than Merino wool. They are best for wet or humid conditions, however they will work well in all conditions as long as properly combined with other layers. Some base layers can be worn on their own on warmer days, or can be combined with a second base layer.
Mid Layer
The purpose of the mid (or second) layer is to provide insulation as it's where the bulk of your warmth comes from. There are a variety of mid layer options for you to chose from, all depending on the climate, activity, and individual. Examples include fleece, down or polyester filled jackets, wool, etc. Each of these choices have their own pros and cons which I will go into more detail about in a later post. On fall or warmer winter days the base layer and second layer may be all that's needed.
Outer Layer
In activewear the function of the outer layer is to keep out the elements: wind, rain, snow, etc. A good outer layer is the right combination of being waterproof, windproof and breathable. The more impermeable the fabric the less breathable it is. For example rubber is a fully waterproof and windproof fabric however it is not breathable. Rubber outerwear traps in body heat generated while being active. This causes sweat to build up and quickly leaves you chilled. On the other hand the more breathable the fabric is, the lower its waterproof and windproof ability. Additionally, in order for a garmet to be fully waterproof it needs to have taped seams. When two fabrics are sewn together it leaves holes in the fabric where the seams meet, allowing water in. The strong waterproof tape covers these holes creating a barrier for water. This is a time-consuming and intricate process however and increases the price greatly. As you can see prices and fabric quality can vary widely in this category. Select technical features that match your climate, activity and needs when choosing the outer layer right for you.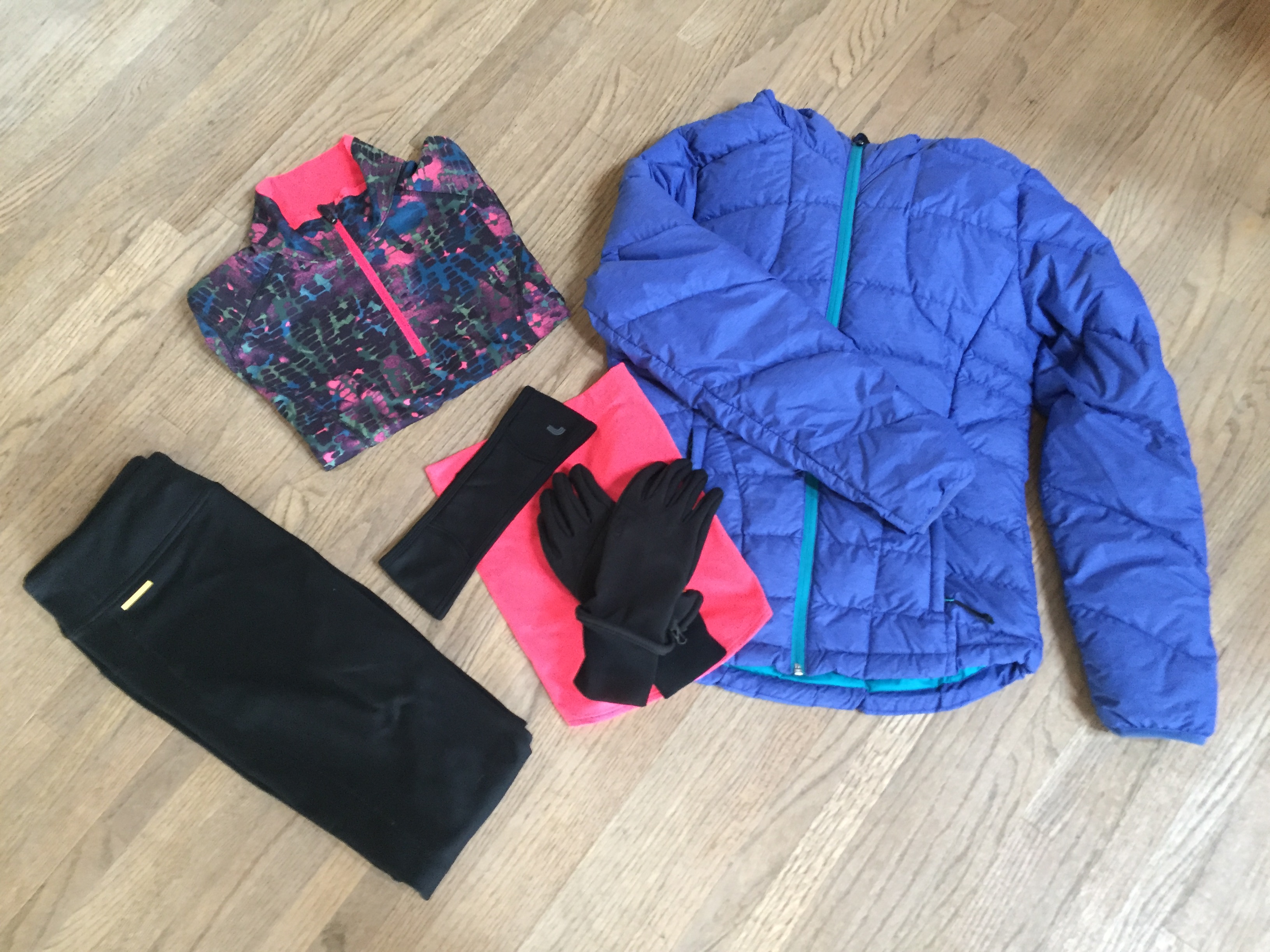 Featured in the photo above are a few layering pieces from Lolë I wore on our first snowy walk this season.
Striking Top in Black Cosmo: $95 – Made from polyester and elastane. Technical features include moisture wicking, bacteria reducing, and UPF50+. The luscious fabric feels amazing next to your skin. Great on its own on milder days or as a base layer when the temperature drops.
Shock Leggings in Black: $95 – Made from polyester and lycra. These fleece lined leggings can be worn either as a base layer on their own, or as a second layer on colder days. Technical features include moisture wicking and UPF50+.
Emeline Packable Jacket in Blue Heather: $118 – Lightweight down filled jacket that comes with a compact packable pouch. Great as a second layer, for travelling, or as an everyday jacket. Technical features include durable water repellent treatment and windproof. *Note: My jacket is a few seasons old however a variety of new colours are available now.
I can't forget to mention my favourite active accessories also featured in the photo:
Aisha Gloves in Black: $63
Love Headband in Black: $32
Sublime Scarf in Reflector Pink: $38
Want to know where you can find these or other Lolë items at a store near you? Reach out in the comments below!