Want to know a dark little secret?  I eat 2 pieces of chocolate every evening.  I LOVE chocolate!  It makes me happy.  What makes me even more happy is enjoying it guilt-free!  I have been working on perfecting my dark chocolate recipe for some time and am excited to have finally found "the one".  My husband, the "healthy food critic" is also a big fan.
Guilt-free chocolate you say?  How can that be so?  We have all heard that dark chocolate is high in antioxidants, but it is also often high in sugar, unhealthy fats, and artificial ingredients.  Since I aim to keep my recipes as low in sugar as possible, my goal was to create a dark chocolate recipe that was low in sugar and made from natural and organic ingredients. Success!
This simple recipe can be made in less than an hour using only 6 ingredients.  It contains 60% less sugar than regular dark chocolate, is only 100 calories per serving, and tastes divine.  I just couldn't keep it to myself!
My natural sweetener of choice is xylitol.  Xylitol is a sugar alcohol derived from North American hardwood.  It has been around for over 100 years.  It is safe for diabetics and is sugar-free.  You can substitute it for equal parts sugar in any recipe.
Since xylitol is more granular than sugar I recommend grinding it finely in a blender.  It mixes and melts much easier when ground.  You can find xylitol in the organic section of most grocery stores as well as natural health stores.  If you prefer you can substitute xylitol for equal parts baking stevia or cane sugar.
In previous attempts I used coconut oil as the binding ingredient.  While it came out tasting great, it melted as soon as it was touched.  I replaced the coconut oil with cacao butter which resulted in a creamier yet firmer consistency.  At $8 per 50 g cacao butter is a more expensive alternative to coconut oil.  If you prefer to keep the cost lower you can replace the cacao butter with 1/2 cup of coconut oil.  Look for cacao butter at your local health food store.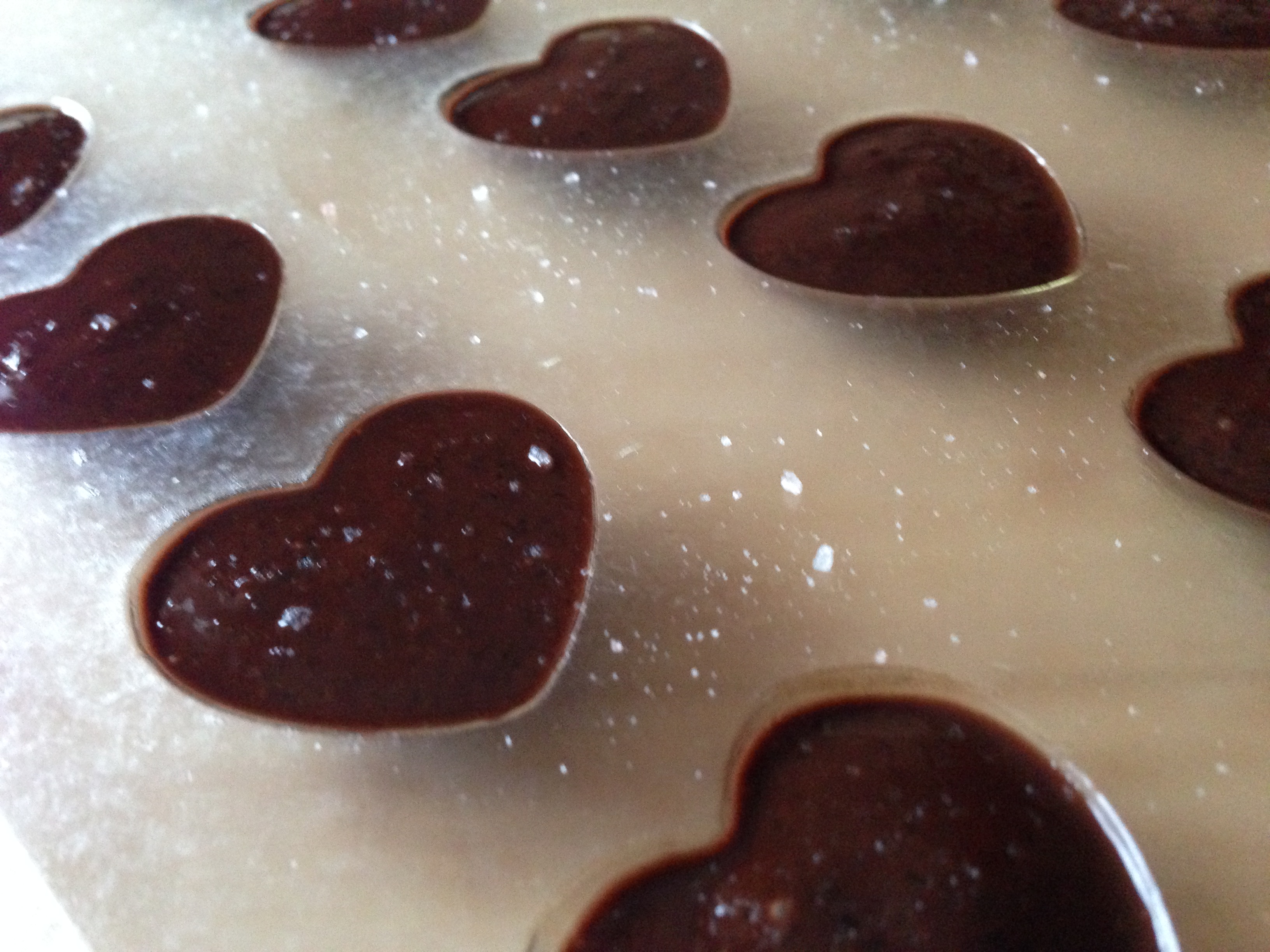 Creamy Homemade Dark Chocolate
Makes ~36 pieces
Ingredients:
50 g (~1/2 cup) cacao butter (or 1/2 cup coconut oil)
1/2 cup almond butter (or nut butter of choice)
1/2 tsp pure vanilla extract
1/3 cup xylitol, finely ground (or natural sweetner of choice)
1/3 cup raw cocoa power
Pink Himalayan sea salt
Preparation:
Chop cacao butter into small pieces.  I even placed the cacao butter in my Magic Bullet to grind it up finely.  The more finely ground, the faster it melts.  Place cacao butter in a small pot and melt on the lowest setting.  Mix in almond butter and vanilla.  Slowly whisk in xylitol and mix until smooth.  Repeat with cacao power.  Stir in a pinch of finely ground sea salt.  Using a teaspoon or squeeze bottle, place chocolate in a candy mold or in small silicone or paper cupcake cups. Sprinkle with large flakes of sea salt.  Don't forget to lick the spoon clean!  Place in freezer for 30 min.  Removed chocolate from molds and place in an air-tight container.  For best results store in freezer.